As summer comes to end, some of you might already be nervous for those dreaded days of being stuck at home with your little ones.  Do you need to stock up on Amazon activities?  Do you need to start looking into car ride adventures?  The answer is yes.  And very much no.  There are PLENTY of things to do right at home with your kids with materials that you already have!  I asked my very creative and talented friend and Scarsdale Mom, Lauren Machinist, to share some activities that she has done to keep her kids entertained on indoor days, using items that you likely already have in your house.  Enjoy!
Article by @ToyMachinist
Cupcake Crayons: Do you find that you have a lot of old crayons that are either broken or worn down that your kids won't use anymore?  Bring them back to life!
-Line a mini-muffin tin with paper liners.  I like to use two in each compartment.  Sort your broken, peeled crayons by color, or however you want, and fill each cup up about ¾ full.
-Melt the crayons in a 250 degree oven for about 12-15 minutes.  Continually check them, and make sure that they do not start to smoke.
-Let the crayons cool, then peel off the paper and have fun!
Alphabet/Numbers/Knowledge Hunt: Are your kids learning their letters? Numbers? Studying a topic in school? Have a favorite topic to discuss?  Take notecards and write down either those letters, or quiz questions and hide them around the house.  Kids get a point for finding each card, and they get a point for answering each question correctly.  Best part – there is a prize of your choice at the end…candy always works well!
Ice Extractor!  This activity takes some forethought.  If you think you have an indoor day coming up, take an ice cube tray or a Tupperware plastic dish and fill it with some of their favorite little toys, such as animals, dinosaurs, Hatchimals, etc.  Fill the Tupperware container with water.  Add food dye color if you are feeling crazy and then pop it in the freezer.  Overnight, the little toys will be frozen inside and your little ones will have to try to get them out.  The easiest way is to use warm water in pipettes, or a spoon.  Slowly add warm water to the ice and soon enough they will be able to "rescue" their toys!
Icing Play Doh: With 2 simple ingredients you can make quick and delicious smelling Play Doh.  All you need is icing and cornstarch!  Grab a large baking sheet and scoop out one container of icing. Using a spoon, gradually add corn starch while kneading the frosting.  Eventually it loses its stickiness and can then be molded like Play Doh and it smells amazing.  You can even go one step further and break your Play Doh up in to different sections.  Add a bit of color food dye and then have different color Play Doh!  Warning: this is definitely a Play Doh that your kids should play with at the kitchen table! 
Volcanoes: I swear this activity is easy, fun, and not as messy as you think!  All you need are some small cups, white vinegar and baking soda!  Take a small cup and fill it half way with baking soda and if desired a drop or two of colored food dye. Then, using a pipette, have your child slowly add the vinegar to the cup. Place activity on top baking sheet to avoid mess.
Mystery Fishing: Take a large bowl and fill it with water and different colors of food dye to make the water appear black.  Then throw a bunch of little toys into the bowl, and your child can "fish them out" with a spoon or tongs.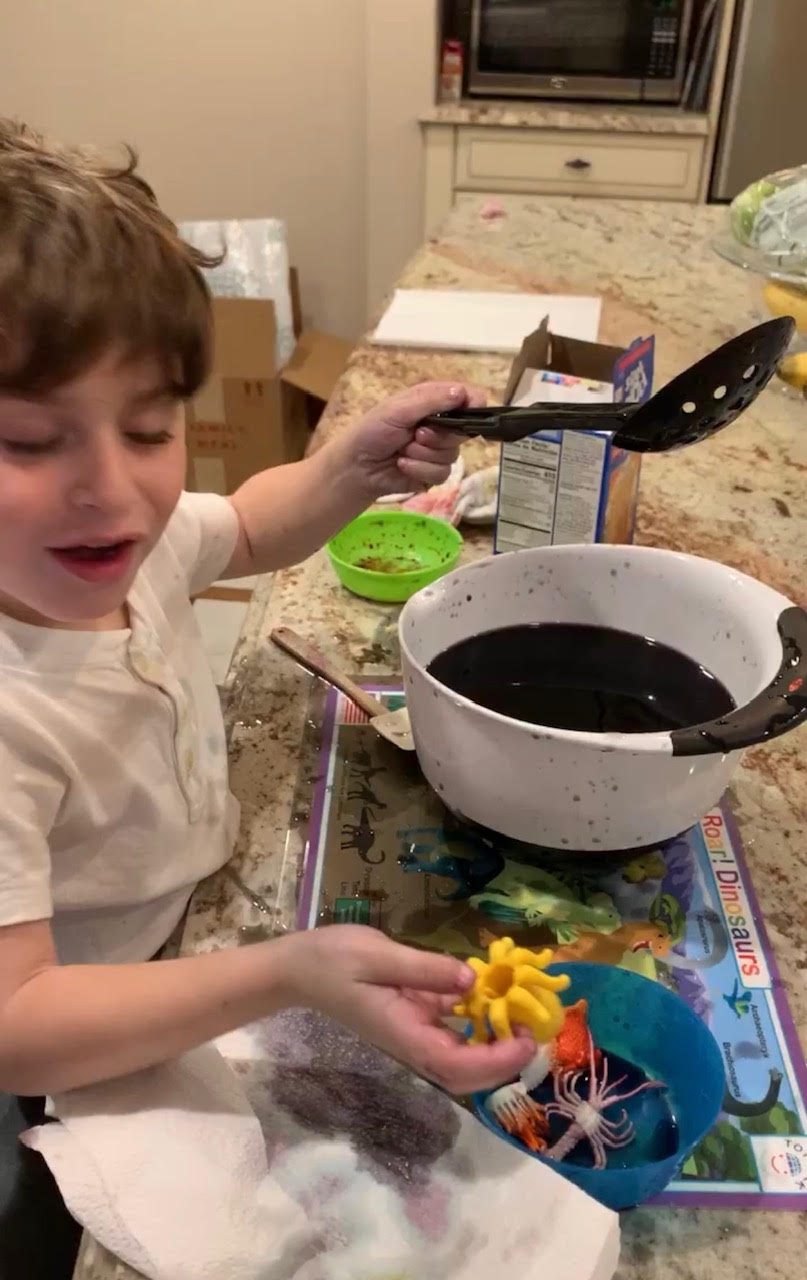 Indoor Snow Play: Is it winter?  Did it just snow?  Is it 7am and your kids want to go outside?  Why not bring the snow inside to play so you can stay in your pajamas!  All you need is an inflatable sensory tray, then grab some snow and let your kids paint it with water color or food dye.  Or they can hide toys in it.  Whatever they want…. as long as parents can stay in their pajamas!