Article by Margot De Boer
Amanda Arbeter, a Westchester native and mom of 2, is a local artist who uses dramatic color and energetic brushstrokes to create one of a kind, eye-grabbing works of art. We chatted with Amanda about her life in Scarsdale, her career journey and how she ended up making art for a living, and picked her brain on everything from favorite arts and crafts activities to gaining confidence as an entrepreneur.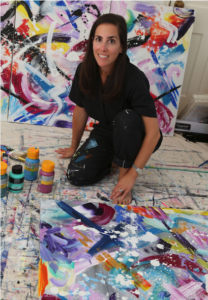 Tell us about your family and life in Scarsdale, please!
We live in Quaker Ridge; we moved to Scarsdale in 2014 from Manhattan. My husband is from South Africa and I grew up nearby in Harrison. We have a 10 year old boy and 7 year old girl.
How did you end up turning your love of painting into a career?
I always enjoyed painting and taking art classes in college (even though the worst grade I ever got was in a ceramics class!). I fell back into painting in 2017 after my family and I moved into a new house and found ourselves with a lot of empty walls to fill. My mom dug up some of my old canvas paintings from college that were in her attic, we had them stretched and put on the wall, and that was the beginning of it all. One of those canvases is still the first thing you see when you walk into our house! I hadn't picked up a paint brush since college, but later that year, I commissioned my first piece and the business evolved naturally from there, first through word of mouth and later through instagram, too. The Scarsdale community has been so wonderfully receptive and I've been able to meet a lot of amazing people here through my business.
Can you tell us a little bit about your artistic process?
I really enjoy interior design and architecture, so I love going into people's homes, seeing their space and looking for the perfect spot for my art. I'm always looking for things that create a rich color story – naturescapes and flowers, for example – and I try to bring in these ideas when collaborating with clients on where they lean on color feel. I would say this is my niche, the custom work.
People are often hesitant about commissions because they're afraid of spending money on something without first seeing the final product. I try to take that fear away in a few different ways. When working with a client, I'll first go to their home, talk to them about their vision, make recommendations on size and placement, and discuss the color palette. From there I always make a mini mock up on canvas, so we can both feel confident on the direction of the piece. What I like about my pieces is that they're open ended, meaning they can be edited and evolved until my clients end up with a piece they fall in love with.
How do you approach art & design when it comes to your own house?
I think art can be the first layer to a room, the last or anywhere in between. It has a way of making the room pop and acting as a focal point to bring everything together. While my paintings utilize lots of colors, I find that actually allows them to act as neutrals and complement a wide range of design styles.
I am drawn to a wide range of artistic styles; one of my favorite artists is a Canadian painter named Erin Rothstein and I like her work because it's the complete opposite of mine – she's hyperrealist and super detail oriented – it's amazing. I've found over time that the art that makes us happiest reminds us of a place in time or somewhere that's special to us. My husband and I love buying small pieces when we travel. He's South African, and we also have a series of wildlife photos by a South African photographer that remind him of home.
What would you be doing if you weren't focused on your art?
Teaching kindergarten. My first job after college was working in textiles; I just knew I wanted a job where I could be creative. After some time at that company, where I worked in bedding, I decided to go back to school for a Masters in early childhood development and special education. My job had started to feel less creative and more project management-focused, and I also had a desire to do something where I could effect more change. There are endless opportunities to be creative as a kindergarten teacher, so it was a perfect fit for me. I always thought I would go back to teaching after my kids got a little older, and if I hadn't started my studio I definitely think I'd be back in the classroom!
How do you keep the balance between work and family?
I love doing pop ups and networking and meeting new people. They light me up inside and give me that adrenaline rush. But I have decided to be very selective on where to spend my time so that I can create that mom/work balance and not feel burnt out or overly stressed out. Carving out time for the business end of the artist life is harder, as I enjoy it less, but I make my peace with it and try not to stress over things like having the perfect website, or feeling like I have to have a newsletter, for example.
One of the benefits of creating art is that people are not usually in a rush for their art (except for a very recent piece I created with the goal of getting it hung in the clients dining room for Christmas dinner!), so I can take my time and really enjoy the creative process while still being able to prioritize family life.
Any advice for those of us who might be thinking about starting our own journeys as female entrepreneurs?
Surrounding myself with other female business owners has been incredibly helpful to me. Heymama and Hustle Like a Mom are two amazing mom/entrepreneur networking groups that have helped me find confidence and community throughout the last several years. These communities help me grow and learn in ways I would have never imagined. When you're working alone, this can be so important!
Self-promotion has never been my strong suit, so meeting other women and practicing telling my story has allowed me to gain confidence in client settings. What I'd say to other women looking to start something is don't be afraid to put yourself out there and talk about what you're good at. If you're confident, people will be more drawn to what you're offering. I wish I had learnt that a little sooner.
Patience is huge when building something new. I used to get frustrated when I'd do an event or get a lead that didn't turn into an immediate sale. But now I can always take one positive thing away from every interaction, even if something feels like maybe wasn't the best use of my time at that moment.
So, you're a former kindergarten teacher and a professional painter; are you the queen of arts and crafts among your kids' friends?
Ha, I do love coming up with projects for the kids! My daughter has been bitten with more of the art bug than my son at the moment. She loves coming to my studio with her friends, and she's always trying to sell her own art works in the neighborhood! So if you see her in the front yard this Spring, say hello!
I think that the best art projects let kids use their imaginations to the fullest. I always think "found" items make the best materials – a cardboard box, flowers and leaves collected outside, old egg cartons – and simple is best. It's amazing what kids can do when you don't micromanage them and just let them have fun with natural materials!
Any favorite local art events or destinations in Westchester you'd recommend to art enthusiasts?
I love ArtsWestchester in White Plains; they have a fun art event every October and a lot of interesting pop up events in their gallery space year round. Some of their workshops are also a great resource for artists.
Locally, my absolute favorite event is the Scarsdale Sidewalk Sale (every July). I have a table there every year and it's just such a fun way to meet people in the community and support other local businesses.
Can you spill the tea on your favorite…
Book you've read recently: Woman on Fire
Bingeworthy TV show: Virgin River
Date night spot: Appetit Bistro (Portchester)
Bagel spot: Bagel Power in Golden Horseshoe
Ladies night out destination: The Bar (Rye) for dinner and drinks
Meal out with the fam: Billy & Pete's (Larchmont)
Place to treat yourself to something nice: Numint for a manicure
Outing with the kids: hiking around the Weinberg Nature Center (also love their programming for kids)
Hidden Westchester gem: Dante's for the most awesome Italian subs