Reflections on Women's Wellness Night, and a More Mindful Approach to 2023
by Margot de Boer
"We know you, because we were you," Cheryl Vigder Brause said, as she looked around and welcomed over 40 young moms into her serene new meditation studio, Pause to be Present, for Scarsdale Moms' first Women's Wellness Night this past Wednesday, Jan 11th. Mindfulness was the evening's theme, and I felt instantly comforted at the outset upon hearing from several moms in the community who have already raised their kids here, and remember how hard it can be to stay present and keep personal wellness top of mind with everything that moms of little kids have going on.
After a quick meditation and introduction to the practice of mindfulness, Gabrielle Wise – another veteran Scarsdale mom and Soul Cycle instructor – shared some wisdom that she wished someone had imparted on her when her kids were young. More water, less coffee, and more sleep and exercise seemed to be a mantra that would be repeated throughout the evening…
Local mom Robyn Grosshandler then shared the role that wellness plays in her life today following her recent battle with breast cancer, and stressed the need to advocate for ourselves as women, especially when it comes to our health. Her story about going through chemo during Covid was heartbreaking, and also laid bare the fact that the pandemic saw so many of us sacrificing our own needs to keep our families functioning. Looking around the room, I felt a collective acknowledgement that many of us have gotten so used to doing this that tonight might just be the reminder we all needed to cut it out. I've spent the majority of motherhood parenting in a pandemic, and as we head into a new year, Robyn's story demonstrates to me that I need to carve out time and space for myself to take care not only of the vital things like doctor's appointments, but also the social outings and creative pursuits that can so easily fall to the wayside when you're juggling being a mom with being yourself.
The main event of the night was an expert medical panel with four local female doctors in a variety of different specialties: concierge doctor Dr. Poonam Desai, dermatologist Dr. Leah Ansell, pediatric gastroenterologist Dr. Natasha Bamji, and Pediatric Consultant Dr. Debra Horn. Attendees were asked to submit questions in advance, and the panel shed light on everything from supplements for nutrition and gut health to metabolism after 40 and postpartum skin care, whether mom brain is real, what the actual heck is going on with all the viruses this year, and why you shouldn't drink coffee after 12PM (this one hurt us ALL to hear).
It's rare to be able to pick any doctor's brain for an hour and it felt like everyone in the room would have kept the panel there all night if we were allowed to. We all laughed at the amount of recommended vegetables our kids should be eating, then let out an audible sigh of relief when we realized that no one's kids eat said recommended amount of vegetables. Mom life can be so isolating and even though we all know we're not alone in these common parenting issues, being able to build camaraderie around this IRL was so refreshing after 3 years weaving in and out of quarantine. I also walked away with some actionable skin care goals that actually feel doable for me, which is saying a lot considering my current skincare regimen is about as sophisticated (and probably as detrimental to my pores) as a jug of Carlo Rossi.
Thanks to all the ladies that came with their questions and an open mind, it was such a fabulous evening and the energy of everyone radiating through the room left me feeling excited to get to know this community of women more as my kids grow older.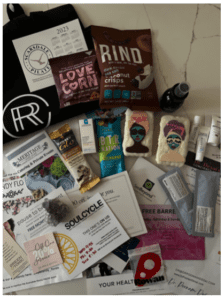 Another highlight of the night that I'd be remiss to mention was the incredible whole body and mind suite of raffle prizes (raffle entry was included with the price of the event ticket):
Fitness packages from Barry's Bootcamp, Amaze Fitness & Scarsdale Pilates
Health & Nutrition consultations with Core Nutrition, Dr. Poonam Desai, My Goodness Health
Coaching & Wellness training from Dara Astman Coaching, Hustle Like a Mom, and Pause to Be Present
Beauty & Spa services from Devra Bader Beauty Spa, Dryluxe, Hair Hause, Hair Saloon & Cafe, Sonia's Brow Bar, Sage & Sound, and Styled by EMC
Goodies from oHHo CBD and Lesser Evil Snacks
I left feeling a little bit lighter (maybe the CBD gummy, or the ear seeding, helped!) and ready to take on 2023 with a renewed promise to be more present not only for my kids, but for myself as well.
Make sure to follow @ScarsdaleMoms and sign up for the newsletter to hear about future events first!